Events at Anse Chastanet
COOKING IN PARADISE - May 12 – 18, 2020 | "The virtues of a locally grown Caribbean Cuisine"
Chef Allen Susser is a James Beard Award winning and continues to set our culinary vision as consulting chef. He has a passionate commitment to local fresh ingredients. Food & Wine magazine named Chef Allen "One of the Best 10 Chefs in America." Come celebrate the launch of his new cookbook "Green Fig & Lionfish, Sustainable Caribbean Cooking." Chef Allen has made Jade Mountain a fabulous culinary destination. Imagine being able to experience Caribbean food in a truly amazing place like St Lucia.
Chef Allen starts this culinary exploration week with a tour of Nick Troubetzkoy's Emerald Estate Organic Farm, located in the Soufriere hills, along with a memorable Cooking in Paradise Class. That evening we are preparing a farm to table "Caribbean Vegan" Dinner created with for our vegan enthusiast.
Conservation of the oceans & sustainable seafood are so essential to St Lucian life. Chef Allen hosts a Lunch & Learn Master Class presented in a healthy and delicious lunch. That evening Chef Allen offers our guests sparkling fresh Caribbean Seafood. In keeping with Anse Chastanet's eco-conscious philosophy, the resort's Treehouse restaurant menu is titled Balawoo - a Creole name for a small fish - which embodies the sea-to-plate, farm-to-table philosophy for which the legendary resort is known around the globe.
Lionfish are one of the most destructive invasive fish species ever to reach the Caribbean. Chef Allen's Conservation Cuisine: "Eat Them to Beat Them" Lionfish Dinner is a romantic beach- side candlelit table setting to savor the notorious and delicious Lionfish.
Chef Allen will personally autograph a complimentary copy of his new cookbook "Green Fig & Lionfish: Sustainable Caribbean Cooking"
The Spoonful of Paradise Dinner Celebration comes to a climax with the naturally diverse shapes and colors of the local Caribbean ingredients. By stretching our imagination, using the finest ingredients, intense flavors, and unpredictable combinations and challenging resources to take the craft to its logical end as a statement of art on the table. Come join our feast for the senses in Paradise.
Contact us for full program or call 1-800-223-1108
Mango Madness Festival - June 9 - 15, 2020
We are proud to welcome Nina Compton for our 13th Annual Mango Madness Festival. Nina Compton is the first Mango Guest Chef for our Mango Madness festival on June 9 – 15. Born and raised in St. Lucia, Nina grew up with the flavors and beauty of the Caribbean and also serves as Saint Lucia's international culinary Ambassador. Nina is the Winner of the 2018 James Beard Awards "Best Chef: South" and one of Food & Wine magazine's "Best New Chefs 2017", Nina Compton is Chef/Owner of award-winning restaurant Compère Lapin in New Orleans' Warehouse District. Her second restaurant venture, Bywater American Bistro (BABs), is in New Orleans' "Sliver by the River" Bywater neighborhood. Join Chef Allen and Chef Nina as they share with you the sensual and exotic flavors of our Mangos.
"Mad Mango" cocktail party, a live interactive mango special cooking class, delectable five course mango dinner incorporating a seasonal and sustainable menu with wine pairing just to mention a few exciting experiences for the week.
Grasp an understanding of our 'farm to table' conceptual dining with a tour of our organic farm Emerald's, wander through the farm and admire the many varieties of mango trees available along with all of the locally grown produce.
Rum is the liquor of the Caribbean – join us for a mango mixology class learning all the tricks of the trade from our experienced bartenders.
Take a leisurely meander through the Anse Mamin plantation which originally was a sugarcane plantation in the 18th century, until it eventually started growing cacao plus a variety of produce not to mention mangos! At Anse Mamin, you simply cannot miss our jungle burger grill renowned worldwide and with this comes an infusion of mangos, salads, fresh locally caught fish and of course our home made burger.
Learn how to cook with mangos with our Chef de Cuisine's special cooking class and learn how we preserve the exotic flavor of mango with spices in the age old tradition of chutney making. If you love mangos you cannot miss our Mango Madness festival.
Contact Us - ansechastanet@ansechastanet.com - 1-800-223-1108
---
Kids Sea Camp - July 25 to August 1 & August 1 - 8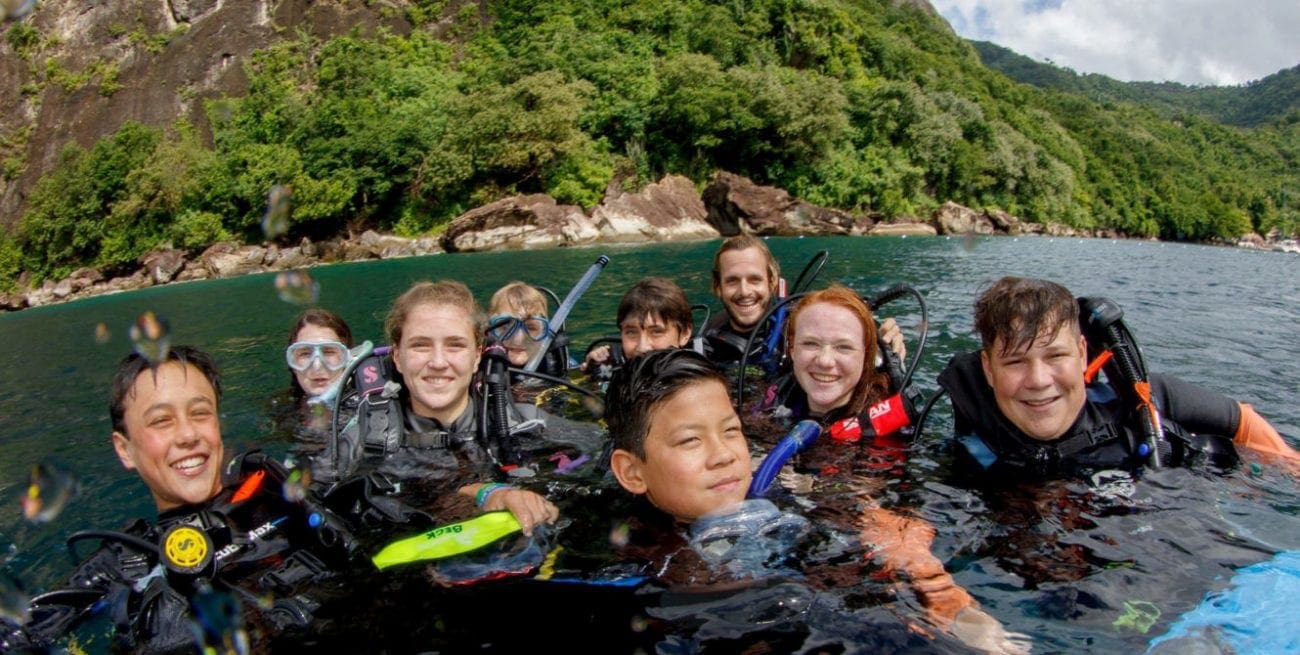 Kids Sea Camp and Family Dive Adventures are honored that Anse Chastanet, this world-famous honeymoon resort allows us to turn it into a family week. Families enjoy coming back to enjoy what they once shared as a couple, but now with their family.
We have included these dive training courses for all ages at the St. Lucia week. These courses are PADI Seal Team and PADI Open Water course for kids or adults. Additional courses that can be booked: PADI Rescue Diver, PADI Night Diver, PADI Dive Master(14-day course).
Our St. Lucia family week activities also include jungle biking, paddle boarding, sunrise and sunset yoga, chocolate tasting, and a world-class spa treatment for the non-divers (chocolate hand and foot massage).
---
Coral Spawning at Anse Chastanet, Predicted - August 9-11 in 2020
Coral Spawning happens once a year and is one of nature's most spectacular and rare performances. A handful of guests at Anse Chastanet, St Lucia, are lucky enough to witness this marvel annually as the natural wonder occurs right off the beaches of this charming resort.
Once a year, coral release millions of packets of egg and sperm cells that appear as massive underwater clouds of white and pink upward moving "snowfall".
Each year, Anse Chastanet's scuba diving team incredibly and accurately predicts the night spawning and prepares to take novice and experienced divers and snorkellers to observe the remarkable phenomenon which turns the seas yellow and pink. It is one of nature's most spectacular and rare performances.
First discovered in the 1980's at Australia's Great Barrier Reef, this annual mass reproduction phenomenon is now known to be critical to coral reef – and our own ecosystem's - survival. Tropical coral reefs, although out of sight, are essential to our world-wide food chains.
Contact Us - ansechastanet@ansechastanet.com - 1-800-223-1108
---
Spices of The Caribbean - Oct 1 - 5, 2020
We look to spices to capture the flavors of faraway places. Specific combinations of herbs, spices, and flavorings characterize the great dishes of the world's cuisines. These mixtures are influenced by the foodstuffs native to each region, being distinctive by the climate, architecture of the land and local culture. Every culture has its own set of traditions about how to cook. By reaching into our spice box, the foods, cooking and specific dishes become immensely diverse. The individual characteristic flavor, mingled with the smell and taste evokes our culinary imagination. It is the taste that ultimately defines the ethnic definition. There was a time in history that spices were so precious that they were locked away. Let's let loose the wonders of spice together. Join our James Beard Award winning Chef Allen Susser and his culinary team under the leadership of our Executive Chef for a week of culinary excitement.
Contact Us - ansechastanet@ansechastanet.com - 1-800-223-1108
---
Discover Chocolate Festival - December 9 - 14, 2020
A hands on interactive experience in the world of cacao and chocolate. Start the weekend with a Chocolate enthused Cocktail Party in the Emerald Restaurant with tantalizing chocolate inspired savory canapés and cocktails. Let's go back to basics with our Emerald Estate Organic farm tour and learn not only about our 'farm to table' concept showcasing our fresh organic produce, but also enter the world of the Cacao Plantation.
Alchemy of chocolate - matching and tasting wine with our own hand made organic Emerald Estate Chocolate. Look, smell, taste - starting with your basic senses and expanding from there. A sumptuous chocolate dinner in the evening, – with an awe inspiring menu and a creative chocolate flair. How can one resist breakfast in bed with a variety of chocolate breakfast treats from chocolate croissants to chocolate French toast! Acquaint yourselves with a chocolate truffle workshop get involved and take home what you make.
Adult chocolate milk shakes and jungle burgers will entice you over to the Anse Mamin beach. Follow up with a walk through the Anse Mamin historical plantation which was originally a sugar cane plantation in the 18th century, until changing hands and moving to a cocoa crop. A chocolate sensory tasting experience is not complete without a trip to the chocolate lab where you will discover how chocolate is actually made. The Anse Chastanet chocolate cocktail party comes with spiced rum punch, passed Hors D'oeuvres to top it off experience a St Lucian Tropical Chocolate Fondue using Nick Troubetzkoy's Emerald Estate Chocolate.
Contact Us - ansechastanet@ansechastanet.com - 1-800-223-1108